SongwritingWith:Soldiers holds weekend retreats across the U.S. for veterans from all conflicts. Since 2012, we have connected with hundreds of veterans and military families, creating a safe and inspiring environment to share their experiences and write songs with professional songwriters. These songs have been recorded and streamed across the internet, reaching and connecting more veterans and raising civilian awareness of the challenges the military community faces.
Learn More About Our Program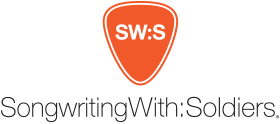 © 2022 SongwritingWith:Soldiers, Inc,, a nonprofit, 501c (3) organization. All contributions are tax deductible. Tax ID # is 26-1626709.
SongwritingWith:Soldiers transforms lives by using collaborative songwriting to expand creativity, connections and strengths.
If you or a veteran you know is in need of other assistance beyond the programs of SW:S, please call the confidential Veteran's Crisis Hotline at 1-800-273-TALK or dial 911. If you are in need of immediate help or if this is an emergency, please go to your nearest emergency room or dial 911.