Thank you for your inquiry and interest in SongwritingWith:Soldiers!
We are thrilled you are interested in participating in one of our retreats! We have a small staff (with big hearts) who are diligently working on creating as many retreats as possible.
Please note, you have been added to our waitlist. We review applications in May and December and will be back in touch with you when a retreat is offered in your home state or the surrounding area. Please look for a confirmation email with additional resources.
If you are in crisis, below are several veteran resources:
The Veterans Crisis Line connects Veterans and Service members in crisis and their families and friends with qualified, caring VA responders through a confidential toll-free hotline, online chat, or text.
Call 1-800-273-8255 and Press 1, 24/7.
Text 838255
The Women Veterans Call Center (WVCC) provides VA services and resources to women Veterans, their families, and caregivers. You can also chat online anonymously with a WVCC representative.
Call 1-855-VA-Women (1-855-829-6636) 8 a.m.–10 p.m. ET, Monday–Friday; 8 a.m.–6:30 p.m. ET, Saturday.
Chat 8 a.m.–10 p.m. ET Monday–Friday, 8 a.m.–6:30 p.m. ET, Saturday.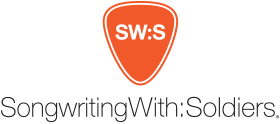 SongwritingWith:Soldiers
632 Fogg Street, #8
Nashville, TN 37203
© 2023 SongwritingWith:Soldiers, Inc,, a nonprofit, 501c (3) organization. All contributions are tax deductible. Tax ID # is 26-1626709.
SongwritingWith:Soldiers transforms lives by using collaborative songwriting to expand creativity, connections and strengths.
If you or a veteran you know is in need of other assistance beyond the programs of SW:S, please call the confidential Veteran's Crisis Hotline at 1-800-273-TALK or dial 911. If you are in need of immediate help or if this is an emergency, please go to your nearest emergency room or dial 911.