Mission
We transform lives by using collaborative songwriting to expand creativity, connections, and strengths.
History
The first retreat was held in 2012 near Fort Hood, Texas with eight veterans. The bonding, the songs, the impact were so powerful that there was no turning back. Since then, retreats have been held across the U.S. with hundreds of veterans and military families connecting, sharing their experiences and writing songs with professional songwriters. Their songs have been recorded and shared through thousands of downloads from our site, reaching and connecting more veterans and raising civilian awareness of the challenges the military community faces.
SongwritingWith:Soldiers uses songwriting as a catalyst for positive change. We offer our participants a unique way to tell their stories, rebuild trust, release pain, and forge new bonds. In SW:S retreat and workshop settings, service members are paired with professional songwriters to craft songs about their experiences, often about combat and the return home. Through their songs, participants rediscover their creativity and reconnect with family, friends, and communities. The songs are recorded and shared through CDs, concerts, and social media in order to bridge the divide between military and civilian communities, and build awareness of the challenges faced by our returning service members.
We include additional "Creative Composition" workshops to inspire creative pursuits in areas such as film, food, meditation, journaling, and more. We foster continued connections among participants by offering creativity coaching online after events to keep the fires burning, and train SW:S alumni as peer support for future events.
The impact of our program ripples far and wide.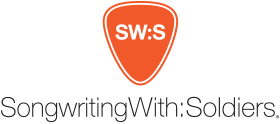 SongwritingWith:Soldiers
632 Fogg Street, #8
Nashville, TN 37203
© 2023 SongwritingWith:Soldiers, Inc,, a nonprofit, 501c (3) organization. All contributions are tax deductible. Tax ID # is 26-1626709.
SongwritingWith:Soldiers transforms lives by using collaborative songwriting to expand creativity, connections and strengths.
If you or a veteran you know is in need of other assistance beyond the programs of SW:S, please call the confidential Veteran's Crisis Hotline at 1-800-273-TALK or dial 911. If you are in need of immediate help or if this is an emergency, please go to your nearest emergency room or dial 911.