"He did not know such experiences could be put into words."
— Richard Erickson, Ch, Brig Gen, USAF, retired
The son of a WWII Navy hero, Richard Erikson, a retired Air Force Brigadier General and Chaplain, has spent his life connecting with veterans. Early in his career, while at Maxwell Air Force Base, he met local parishioners who just happened to be the parents of SW:S songwriter Beth Nielsen Chapman.
"Beth's parents all but adopted me!" he told us after a recent retreat. "I had never met Beth so when my father wanted to attend his ship reunion in Nashville, I knew we had to go and also meet Beth. As we talked, Beth told us about SongwritingWith:Soldiers and played two songs she'd written at retreats ('Never Really Made it Home' and War After the War'). My father, then 93, said he had never heard such music in his lifetime. When we left, I asked my father what he meant. He said he did not know such experiences could be put to words."
Those words hit home. Richard contacted SW:S about participating in our program. The pandemic thwarted his initial attempts, but Richard persisted and was able to attend a retreat in October 2021.
"I'd been thinking about my deployment to Iraq in 2004, inspired by the great reverence we showed our courageous sisters and brothers who were killed in action. Hundreds of troops gathered to receive and honor the fallen during these 'Patriot Missions'. A chaplain is always present to render honors, offer prayers, and provide comfort, serving every person regardless of her or his religious beliefs.
"The retreat was a time of great solidarity and creativity. I was grateful to be able to articulate what it means to be a medical group chaplain at war. It was such an honor to be paired with Jay Clementi for my writing session that resulted in our song, 'Born to Bless the Fallen'."
Richard continues to connect by sharing his story, and now his song.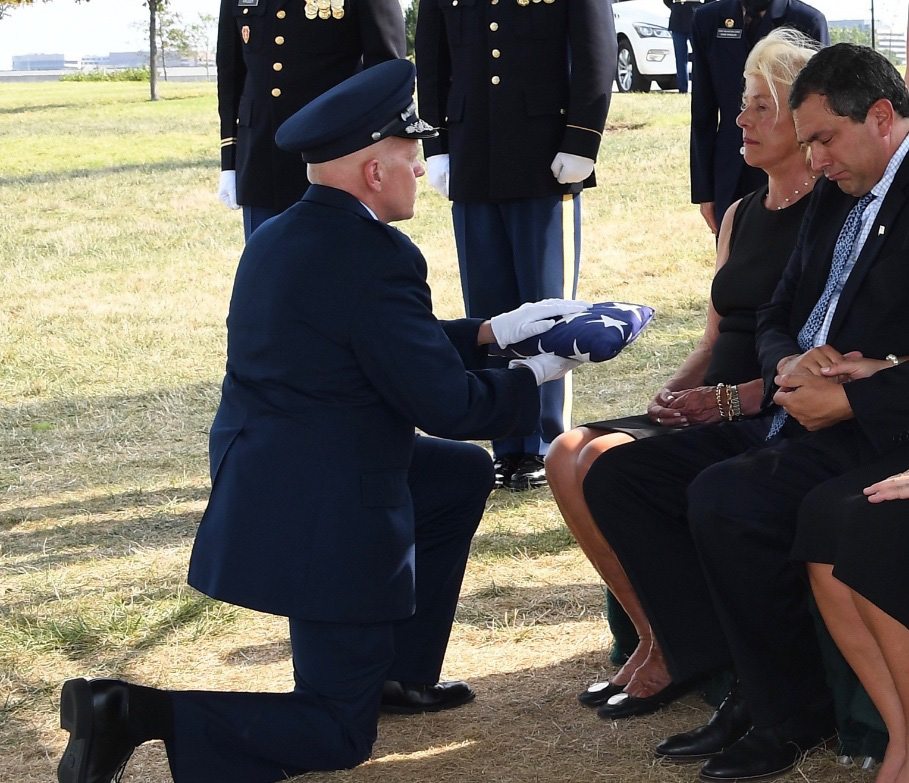 Richard Erickson comforts a family. Photo: Courtesy of Richard Erickson
Born To Bless The Fallen
Fallen Richard Erickson / Jay Clementi
I'm the loving reminder of the holy
Soldiers, Sailors, Airmen, and Marines all come to me
I'm the promise we'll leave no one behind
I'm there when the flicker of life leaves their eyes
I'm the last face they see before the face of God
I give them peace and comfort as they're moving on
Their souls are set free from the burden and the pain
I send them off to heaven but the hurt remains
I'm at the mercy of my calling
I'm born to bless the fallen
I pray over them with the words written in red
There's a two-thousand-dollar bounty on my head
Nobody sees them when they look at me
My wounds are always here, they're just too deep to see
I'm the last face they see before the face of God
I give them peace and comfort as they're moving on
Their souls are set free from the burden and the pain
I send them off to heaven but the hurt remains
I'm at the mercy of my calling
I'm born to bless the fallen
They showed no greater love, fought to the end
I'd do it all a thousand times again, be there for them
I'm the last face they see before the face of God
I give them peace and comfort as they're moving on
Their souls are set free from the burden and the pain
I send them off to heaven but the hurt remains
I'm at the mercy of my calling
I'm born to bless the fallen
Copyright © 2022 SongwritingWith:Soldiers Music / Sony ATV Cross Keys (ASCAP)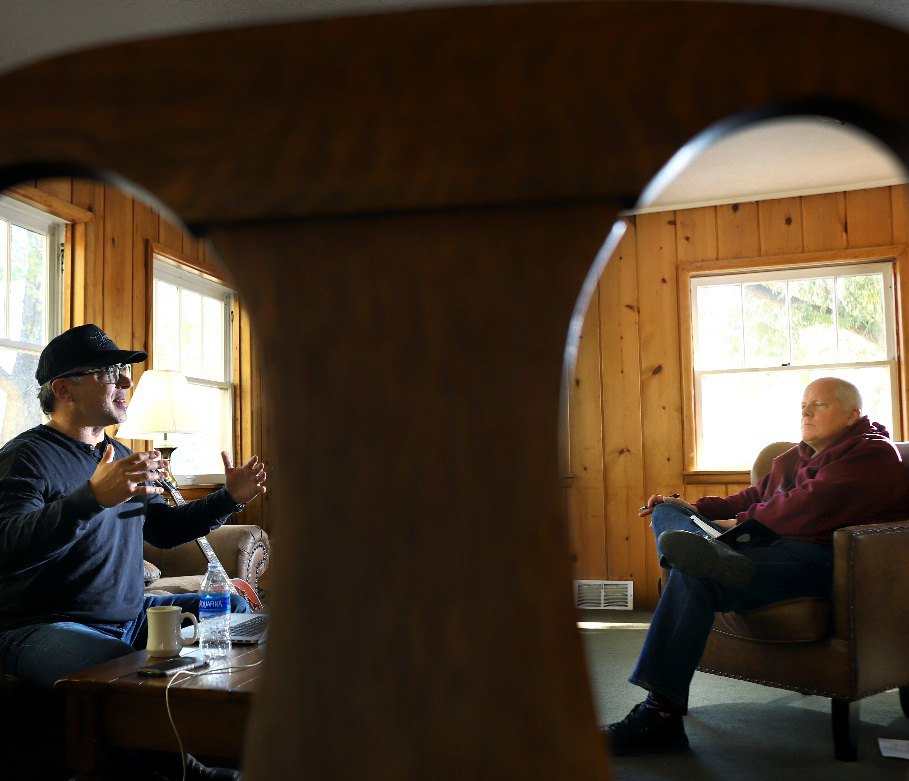 Richard Erickson shares his story with songwriter Jay Clementi, October 2021. Photo: Rick Loomis