SongwritingWith:Soldiers was deeply honored to be invited to the Bob Woodruff Foundation's special event at the Hay Adams Hotel in Washington, DC. Not only were we able to thank our BWF friends in person for their guidance and support, we were also able to help them showcase their impact on small programs such as ours. To put it simply, we wouldn't be here today without their initial funding, their mentorship, and their friendship.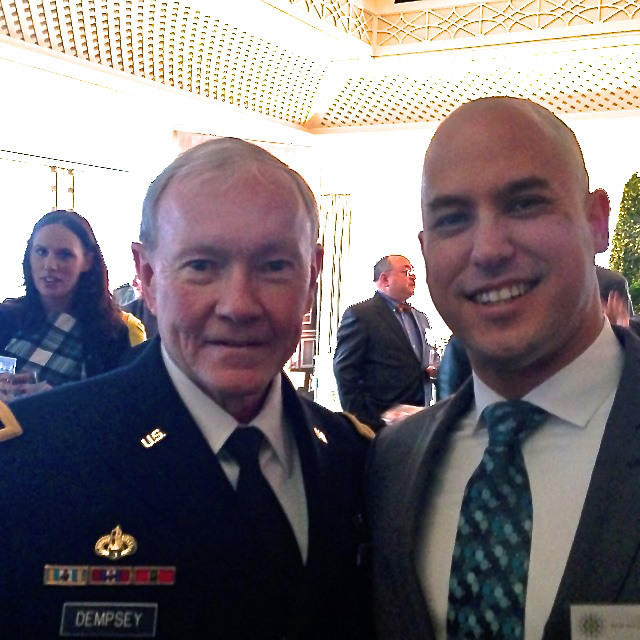 Former Staff Sergeant AJ Merrifield (USA) with General Dempsey, Chairman of the Joint Chiefs of Staff
As grateful as we were to attend and to meet VIP guests like the Chairman of the Joint Chiefs of Staff, General Dempsey, ABC news correspondent Martha Radditz, and many others, it was equally rewarding to listen to SW:S alum, former Staff Sergeant A.J. Merrifield (USA), speak about a recent experience that resulted from playing his song for others. Here, I share it with you:
"I think one of the things that makes SongwritingWith:Soldiers so strong and so important is the way it uses music to bridge the gap not only between Veterans and their loved ones, but between Veterans and the wider world, the civilians that would otherwise have no view into our experiences because with the rise of the all-volunteer force they don't know anyone who's served, so they have no connection to that world.

Recently, I had the perfect example of that bridge occur when I was in a coffee shop up in Dallas with some friends, and we were talking about SW:S retreats. To show an example of the types of songs that come from the retreats I pulled up the YouTube video of the song "Funeral Detail" that Gary Nicholson and I wrote together about the experience of being the one who hands the flag to the family as part of a funeral detail.

At the end of the video, a woman approached me, tears streaming down her face, and hugged me. She said, "I'm sorry, I wasn't trying to intrude, but I heard your song and I just wanted to thank you. I was a little girl when my father died, and one of the things that stuck with me most was remembering how cold and impersonal the man who handed the flag to my mother seemed to be. I remember being so angry and hurt that it meant nothing to him that my daddy died. I've been angry all these years at the military, angry that they never cared that he died. I never thought for one second that those men in uniform had lost a family member and a friend, too; that they knew the pain we were going through and were just trying to hold it together themselves. Thank you. Thank you my daddy, for me and for my family."

Examples and experiences like this abound, and in talking to the Veterans who've been through the songwriting retreats, it's far from an isolated incident. I think every Veteran who's taken part in a SW:S retreat has a similar story to tell, a way a song or phrase has struck a chord, has bridged that gap, has shown someone else a glimpse into our world, a view of that shared experience and emotion we all know. While the experiences and things we've been through may be unique, the underlying emotion and humanity of them is universal, and any way we can find to showcase that to those around us not only helps us to close those gaps, but to bring us all closer as human beings."
By sharing his story and playing it for others, AJ was able to help break a long-held stereotype in this woman. (And who knows how many others who may have been listening, too.)
It is likely the woman will share her new "military story" with others, and the ripple effect of this powerful song will continue to flow.
Thank you, AJ, for helping all of us better understand this deeply human experience.
And, thank you, again, to the Bob Woodruff Foundation for helping stories such as these come to light through our program — and at the special DC event.
Mary Judd, Executive Director