350+ songs
400+ veterans, active-duty, and military family members

Five Years Strong in 2017


Building community and resiliency through song!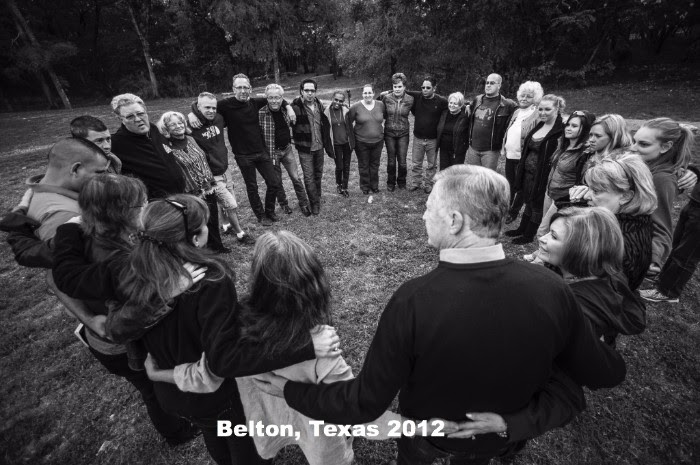 October 2012 Three songwriters, a specialist in positive psychology, a handful of volunteers and ten soldiers gathered for the first SongwritingWith:Soldiers retreat outside Austin, TX. The ingredients for a powerful weekend.
Ten songs, stories of hope, and a new community were created.
"This retreat restored my faith in humanity. People do care."

"I have served so many others and forget to serve myself. You all were my motivation, hope, and have given me renewed strength to continue doing great things. Yes, there is a BRIGHTER FUTURE. Thank you."

"In life, bonds get stronger when you are dealing with the darkest things in your life; you need the moral support. The whole experience for me was inspirational."
Many initial participants remain active with the SW:S community, attending events, workshops and retreats. Many times we hear, "I would not be standing here today if it wasn't for this program."
SW:S retreats are improving, and sometimes saving lives.
September 2017  Several SW:S veterans joined 11 new participants at the Carey Institute in New York.They led workshops, served as peer support, and shared ideas for reaching more veterans. By year's end 50 SW:S events will have been held around the country!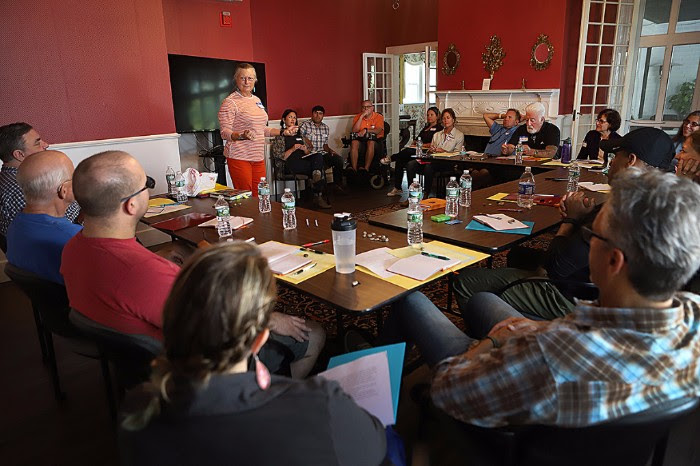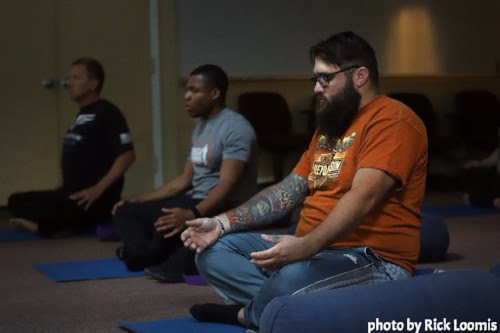 Yoga class led by past SW:S participant Rob Spohr, an active-duty Army National Guard Soldier, and certified yoga instructor.
Past participant, Barry Fetterolf, wrote:
"I can't remember in all my 65+ years when I met so many amazing people…I have done it all. In patient / out patient / immersive therapy / medication. I have made some positive steps but this weekend takes the cake. I promise to do all I can do to help your organization and to get the word out to all of the Veterans in need. Thank You so much."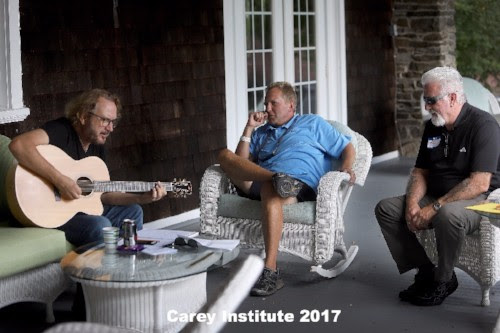 Barry Fetterolf (far right) returned to support his friend, Army Veteran George Watson (center). Here, George writes "Cast a Fly" with Hall of Fame Songwriter, Gary Burr (left).
We continue to see the impact of our mission – using collaborative songwriting to build creativity, connections and strengths. Our participants feel a positive shift after attending a retreat. They leave feeling less alone, more connected to fellow veterans, and a little more understood by civilians.
The positive connections build community and resilience.
Their songs give voice to what they have experienced.
They help bridge the military / civilian divide.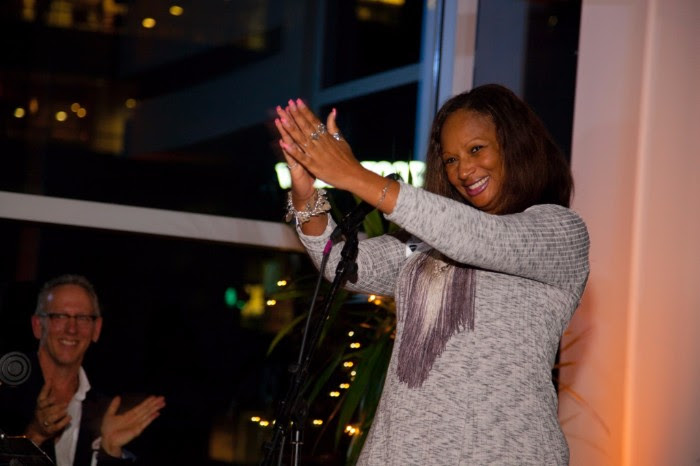 We are honored to do this work and inspired to move forward.
With your continued help and support our future remains bright and ever growing. We will soon be announcing some exciting news designed to strengthen our organization and help ensure we accomplish even more!
THANK YOU ALL
for helping us to build more hope and community in our world.
Darden Smith, Founder and Creative Director
Mary Judd, Co-Founder and Program Director