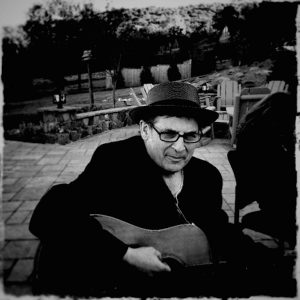 Greg Trooper passed away on January 16, 2017.
He'd been sick for awhile, but he didn't let it slow him down that much. He was still doing shows up until a few months ago, and had just recorded tracks for a record with Stewart Lerman, Steuart Smith and Kenny Blevins, all old friends.
Trooper and I met back in the 90's, just a couple of traveling songwriters, doing gigs. We bonded over D L Cerney, and pasta. He was funny. I always smiled around Greg.
Back in 2010 or so, he started working with me on a project based out of Covenant House in Newark, where we would write songs with the homeless teens that were living there. It was scary work at times, as you never knew what you were walking into. But Trooper had a way of defusing any possible tension by just looking over his glasses at the kids, laughing, and playing his guitar. He was so non-threatening, but strong. They loved him, and I think he was better at it than I was, to tell the truth. And it was my idea to start with!
Trooper worked with us on quite a few SongwritingWith:Soldiers retreats. He was the same there. He had an ability to find the song in any story. One of the last retreats Greg was on was with Veteran families. While the other writers were working with the adults, he took all the kids for a walk down to the lake. They were going crazy, just wanting to throw rocks in the water. So Trooper grabbed his guitar and they wrote, 'Throw A Rock.' It's still one of the catchiest songs in the whole SongwritingWith:Soldiers catalogue. I loved him. He showed me ways to connect with the soldiers that I hadn't recognized. He was deeply in touch with why we do this work, and the effect it leaves behind, long after the song is written.
He was a beautiful dude. His glasses refused to stay on straight, his career never 'took off' in any massive way, but his guitar always sounded good, his voice was strong and his groove was rock solid. People from California to New York, Ireland to Italy loved his music. He did good work.
He saw more than most.
And Dan Penn liked him enough to produce one of his records, so that says something right there.
Sail on, my friend.
Darden Smith