At 6 o'clock I will defend you
At 6 o'clock just call my name
At 6 o'clock I'd die for you
And I know you'd do the same
From I Got Your 6 written at a SongwritingWith:Soldiers retreat by two Iraq war veterans and a professional songwriter
If it weren't for The Bob Woodruff Foundation, the song "I Got Your 6," along with hundreds of others written by our veterans, wouldn't exist.
Ten Years Alive!
On January 29, 2006, Bob Woodruff was nearly killed by a roadside bomb in Iraq. His miraculous recovery, at the hands of military medical professionals, inspired Bob and his family to give back by helping our nation's injured heroes and their families through the creation of the Bob Woodruff Foundation.
In the decade that has followed, the Bob Woodruff Foundation has invested $30 million to find, fund, and shape the most innovative programs serving our veterans and their families…"
—Bob Woodruff Foundation Newsletter
In 2012 the Bob Woodruff Foundation (BWF) discovered our program, SongwritingWith:Soldiers. We pair professional songwriters with veterans in retreat settings and use collaborative songwriting to build creativity, connections, and strengths. The BWF staff contacted us to see how they could help us reach more veterans. They encouraged us to apply for a grant. They challenged us every step of the way to ensure we learned how to present our program accurately and effectively and offer the best program to veterans that we could. Their high standards and genuine support are gifts for which we will be eternally grateful.
At an SW:S retreat for Military Families, several teenagers sat down with two professional songwriters and wrote Battle Rages On, a powerful song about what it's like when parents return from combat.
I will never know what it's like
To be fired on at night
Scared to the bone
But ready for the fight
All I can see—–
Slammed door hit the floor just cant take it anymore
The battle
Rages on
Even at home
When the bullets and the bombs and the patriotic songs are gone
The battle rages on…
The kids were also brave enough to help debut "Battle Rages On" that evening when the songwriters performed all the new songs!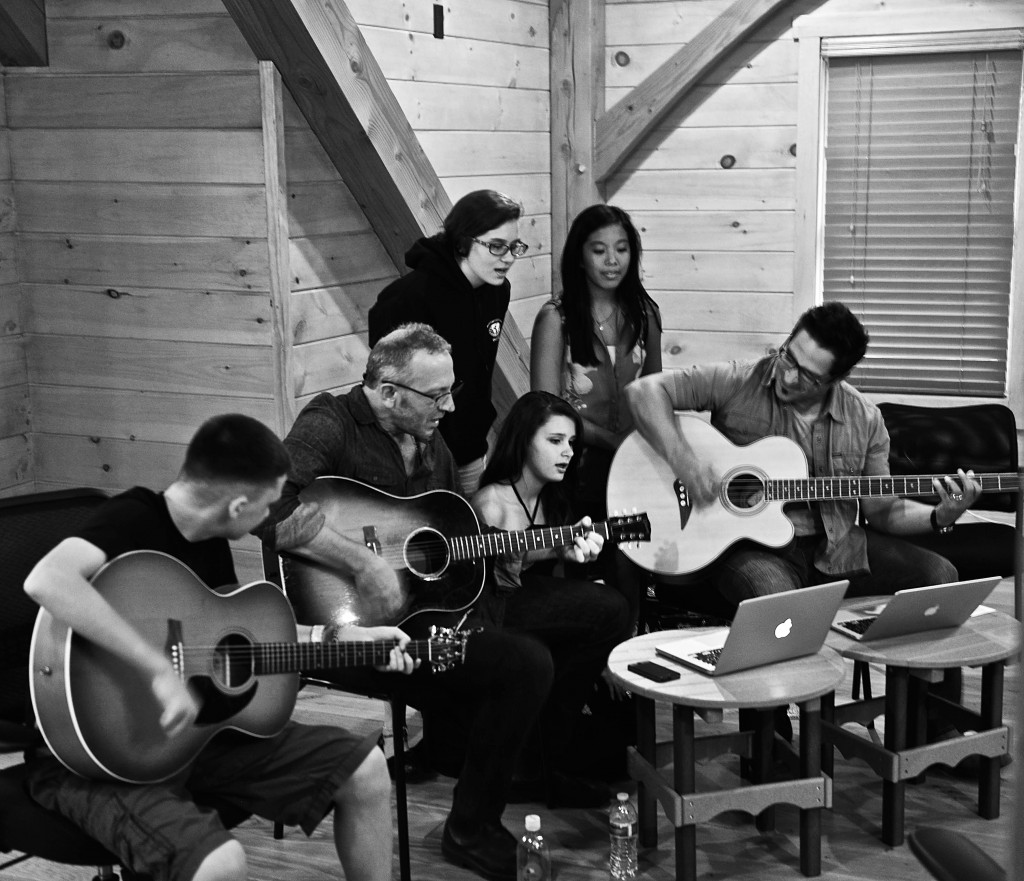 As a result of BWF's early funding and guidance, these powerful songs exist. The connections and understanding they inspire are changing many lives.
Since 2012, SongwritingWith:Soldiers has:
Held more than 20 retreats in locations around the country
Worked with more than 250 veterans and family members
Written more than 250 songs, most of which are available for others to listen to and/or download on our website
Created long-term partnerships with other organizations that support veterans and the arts such as ASCAP, Boulder Crest Retreat, Mid-America Arts Alliance, the USO, Texas Performing Arts (UT Austin), Bohlsen Group, and others
Created opportunities for our veterans to continue to learn and connect as peer support and creativity workshop presenters and remain part of the SW:S community
Most importantly, helped hundreds of veterans and family members share their experiences with each other, with us, and with the world through their songs – songs that have brought relief, rebuilt trust, and sparked joy. These songs continue to connect people and bring us all closer together.
Songs like:
Our Whole Family Serves – by a military family at a Virginia retreat
Waiting On The Boom – by a group of EOD Warriors at a Virginia Retreat
I Found What I've Been Missing – by two veterans at a Texas retreat
Throw A Rock – by young boys at a Military Family retreat
The War After The War – by military spouses at a Military Couples retreat in Virginia
The Common Thread (Is Love) – a love song from a Military Couples retreat
Confusion – by our whole group of veterans on opening night of a NY retreat
The songs are as varied and as authentic as our veterans and have much to teach us all. We urge everyone to take some time to listen to them and share them with others.
Join us in celebrating the people and achievements behind them – including Bob and Lee Woodruff and all the Foundation Staff!
It is with the utmost joy and thanks that we celebrate "Ten Years Alive" with the Bob Woodruff Foundation and all of the many lives they have touched.
Thank you!
Mary Judd
Executive Director, SongwritingWith:Soldiers