The following post contains an interview transcript from AJ Merrifield in response to questions from Paula Phelps, Science Editor for Live Happy Magazine. You can read more and hear a podcast with SW:S Co-Founder Mary Judd and songwriter Jay Clementi here.
Your military background
After the September 11th attacks, I felt called to serve so I enlisted in the U.S. Army and served from 2002-2011 as a military policeman (MOS 31B) and deployed for multiple tours in Iraq in a number of positions ranging from the bodyguard for the Commanding General and Command Sergeant Major of the 101st Airborne Division (Air Assault) to the Detention Operations Non-Commissioned Officer for Multi-National Division – North and the Personal Security Officer to two consecutive Deputy Commanding Generals – Support for U.S. Forces –Iraq. I was the 101st Airborne Division and Fort Campbell, Kentucky Non-Commissioned Officer of the Year 2005. When not deployed, I served stateside and in Korea as a Military Police Investigator, Special Reaction Team member, Team Leader, Squad Leader, and Platoon Sergeant. I'm a graduate of the Air Assault School, Pathfinder School, Special Reaction Team Training Phase 1 & 2, Anti-Terrorism Officer course, and I'm a lifetime member of the Pathfinder Association and the Army Sniper Association.
When did you participate in SongwritingWith:Soldiers?
My first SW:S retreat was in April 2013 at the Belton, Texas retreat. I've been lucky enough to come back to a number of other retreats since then as a facilitator and peer helper.
How did you hear about it, and what made you decide to do the retreat?
I saw a posting on the Team RWB page about an upcoming songwriting retreat in the Austin area that didn't require any musical talent or training, and as I'd always been interested in that I thought it could be interesting.
When was your retreat?
April 2013
What song did you and Jay write?
The song we wrote together, along with another Army Veteran, Chris Chirco, was a song called Call to Prayer. It grew out of a discussion that the three of us had had that first night, talking about the dichotomies of faith in a combat zone, how the experience can make or break your faith, the feeling of loss when losing a comrade, and how you deal with those things.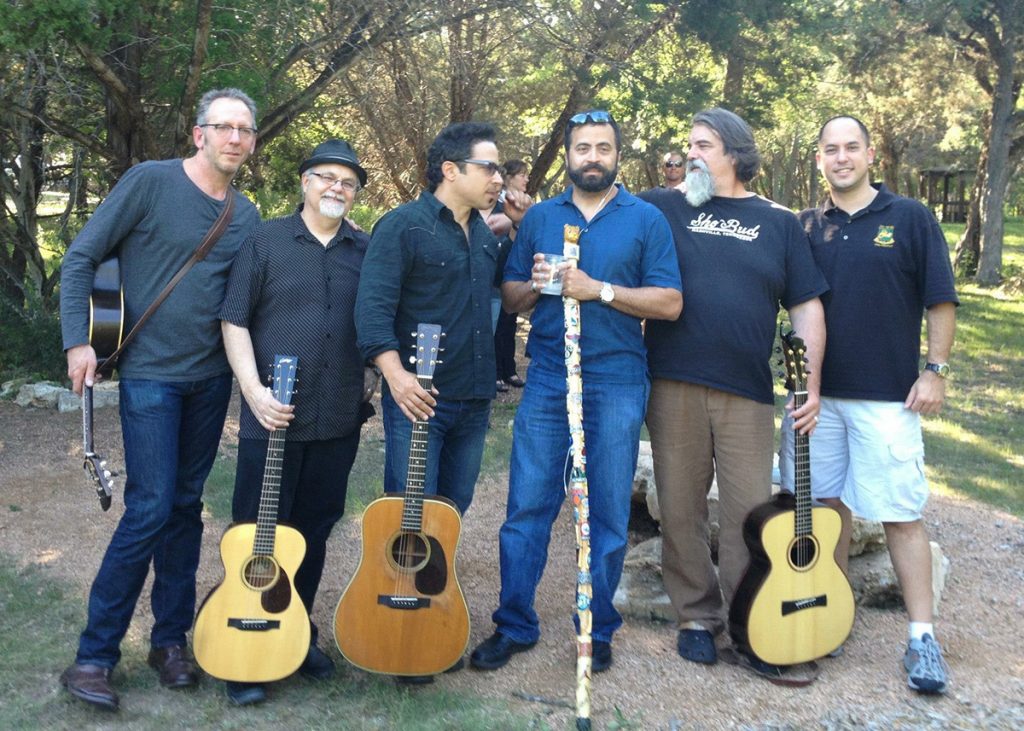 What was it like the first time you heard that song?
I'll be honest, I broke down the first time I heard it. I still do. The whole point of SW:S is to help to bridge the gap between Veterans and others, whether it be other Veterans, or civilians who've never served, but one of the things I've found from my time with them is that it also helps to bridge a bit of the gap within ourselves, too, accessing some of the thoughts and feelings we either try to forget or don't like to acknowledge, and help us deal with and confront those feelings.
What does it mean to you now?
The song, the whole experience, means so much to me. The songwriters I've met and written with, and especially Darden and Mary and all those who created and run SongwritingWith:Soldiers, the people who volunteer their time, effort, and money to the program, they've impacted more lives than I think they'll ever really appreciate or understand. Every time someone hears these songs, it helps break down preconceived notions and barriers on both sides. It's so hard to be able to convey or express some of the things we've been through or some of the things we think or feel, and to be able to use music to convey those things in a manner that expresses so much more than words by themselves can, is something I will forever be indebted for. The song that Jay and I wrote together talks about one of my Soldiers, SPC Clinton R. Upchurch, and in a way this song keeps him alive, too, by keeping his name out there, keeping the memories fresh, and that's something I'll always be grateful to Jay for.
How has participating in that experience changed you?
You know, we talk about the Civilian-Soldier divide, and how civilians don't understand Veterans, don't understand what we've been through or even the way we talk or think, but I think the flip side of that is that a lot of Soldiers and Veterans think/assume that's because they're not interested in knowing or understanding. SW:S shows that not only are there some folks who've never served out there who want to understand, but they want to help, and they want to help others understand as well, too. I think so often we take the platitudes of "Thank you for your service", etc. with a grain of salt, or have become inured to it after so long at war, but SW:S is a shining example of those who genuinely care and want to make things better. SW:S has helped me to communicate, helped me to bridge my own personal gaps both with others and myself, and also driven me to help other Veterans, too. In short, it's made me a better person, and made me strive to be a better representative of the Veteran community.
What do people need know about it?
I think that people need to understand that SW:S isn't just a bunch of guys sitting around writing songs for fun. This isn't just a little creativity exercise, it's not basket weaving as a way of distraction, but rather a genuine and important way of helping those who're returning from the crucible of war, loss, and sacrifice to communicate, to express themselves in ways they never thought they could, a way to build understanding on both sides of the song (those who write it and those who hear it are both impacted), and it's a program that literally saves lives, not just from a "I've found myself again" point of view, but from a literal "I was going to kill myself because I felt so isolated, but this helped me to bridge that gap so I'm not so isolated anymore" way. This isn't group therapy, it isn't sitting around singing "Kumbaya", this is a chance for these guys to express their authentic selves, and in the process of doing so helping to ease some of that burden while helping others realize and deal with their own.
– A.J.