Two months into the Covid-19 pandemic, with in-person retreats and songwriting sessions on hold, the organization created a variety of online offerings to keep the SW:S community engaged and to share more of the songs and stories with the world.
One effort, the "Songs from Home" online concert series (funded through an anonymous donor) brought the songwriters, songs, stories and live comments straight into viewers' homes on a variety of leading social media platforms, connecting so many of us at a time of great uncertainty. The impact was profound, with past participants connecting with other veterans, military families and civilians from around the globe.
For his show, SW:S Music Director, Jay Clementi selected a handful of songs from nearly 100 that he's written through the program. With a keen memory for detail and a loving heart, he honored such struggles as the EOD couple fighting to keep love alive and the wounded combat veteran missing his former self.
He shared the story of two Army Rangers, Marcin Budnik and P.K. Kelly, who met at a retreat and discovered they both knew a Ranger, Sgt. McPherson, recently killed in combat. Together, with Jay, they wrote "Daddy's Son" a song for McPherson's baby boy, filled with loving, fatherly advice.
"These men brought such an honest, unique perspective," Jay said "because they knew McPherson so well, missed him terribly and had an unwavering reverence for him. I felt an immediate connection with them and to Sgt. McPherson because he was a husband and a father of a son."
Before he played the song, Jay introduced his sons, Christian and Brody, who were only 8- and 11-years old when he started working with SW:S in 2012. Now accomplished musicians with an acclaimed band called CB30 who have appeared on ABC's Christmas special with Reba McEntire and opened for Luke Bryan, the young men brought gorgeous harmonies and deep respect to the performance with their father.
"The fact that this song is a direct message to McPherson's son, and my sons were able to perform it with me still gives me chills," Jay said. "I'm filled with thankfulness and deep respect for a man that died fighting for our freedom."
For the duration of the show, Christian and Brody listened to their father share more stories and provided harmonies when he sang, inhabiting each song with heart.
"We have grown up around SW:S getting to know the people, the songs, and a lot of the stories behind them," the boys said. "It was amazing to play a few as a family for the first time, especially 'Daddy's Son', that was always one of our favorites. We felt like it was extra special getting to sing it with our Dad. Our hearts go out to the family it was written for."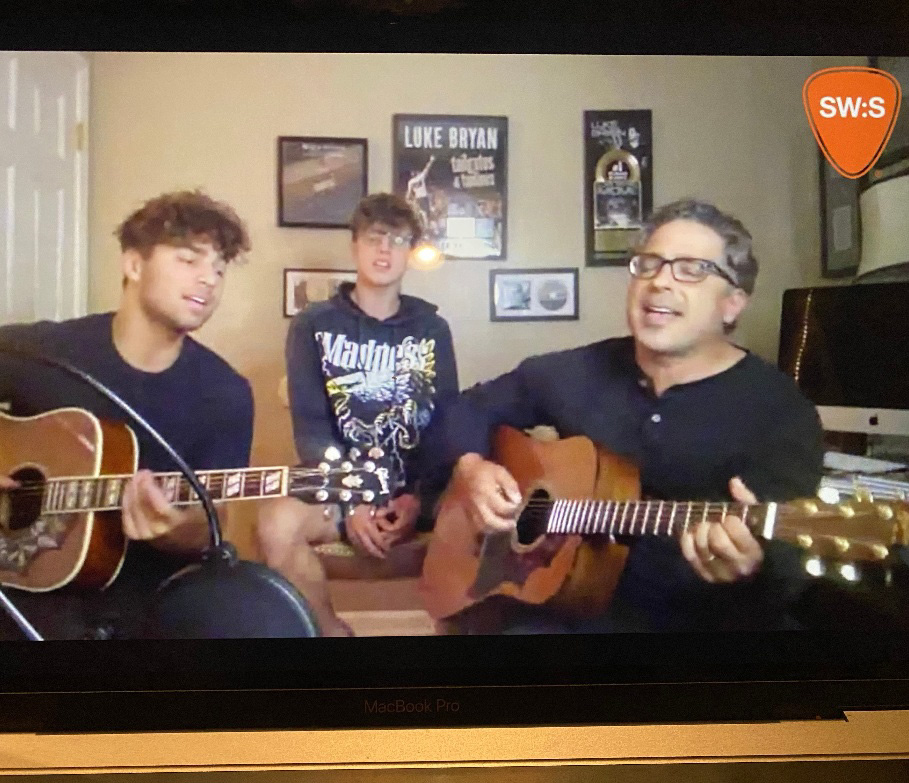 Jay Clementi is joined by sons Christian (left) and Brody (center) in one of the 11 Songs From Home online concerts performed in April and May of 2020.
Daddy's Son
Sean Bode / Marcin Budnik / John "PK" Kelly / Jay Clementi
It's your daddy son, yeah I'm right here
I never went away I'm always near
You can talk to me when you're feeling down
When your heart is hurting or your scared I'll be around
I never got to talk about faith, life or love
The good the bad the ugly that's all a part of growing up
We never got to play catch, so charge the ball
Give your best
Never start a fight but never back down
Sometimes walking away is standing your ground
If your heart pounds to a rockabilly song
If your hair stands up when someone's being wronged
And you wonder where all that comes from
It's your daddy son
When it comes to girls, there's gonna be some drama
Don't forget to show respect just like I did your momma
And when it comes to her, you gotta pour on those kisses
It's gotta be enough for the both of us for all the ones I'm missing
Always do your best son I'll be proud of you
Prove things to yourself it's all you gotta do
We never got to play catch, so charge the ball
Give your best
Never start a fight but never back down
Sometimes walking away is standing your ground
If your heart pounds to a rockabilly song
If your hair stands up when some ones being wronged
And you wonder where all that comes from
It's your daddy son
One day you'll search for meaning for what your life has in store
The secret is finding something that's worth dying for
We never got to play catch, so charge the ball
Give your best
Never start a fight but never back down
Sometimes walking away is standing your ground
If your heart pounds to a rockabilly song
If your hair stands up when some ones being wronged
You have the spirit of a warrior the heart of a gentleman
You're your daddy's son
Sony ATV Cross Keys (ASCAP) / SongwritingWith:Soldiers Music (ASCAP)