Retired Army Colonel, Christine Rem, heard about SongwritingWith:Soldiers in 2017 through a friend who had donated to the program. "Come with me to a concert this weekend," the friend had said. "You will hear songs written by veterans."
Being a music lover, Chris was intrigued. Being a professor who works with veterans often struggling with transition issues, she was eager to hear what was expressed through song.
"I was stunned," she said. "It is hard to put into words. The beauty of the music. The relief I saw on the faces. Both the veteran who wrote the song and the others who related to it. And, unexpectedly, something within me knew I had to try to attend, too."
That concert connection was the first brick laid in a series of decisions Chris made that would impact countless lives. She attended the next retreat in Rensselaerville, NY and wrote "Eyes of a Deer" with Maia Sharp. The confidence Chris built through writing that song, attending retreat creativity workshops and group discussions led her to a prize winning performance in a poetry contest. "I had never done anything like that before!"
"My passion since retiring from the Army has been helping fellow veterans. When my husband, Christopher, passed away (while active duty, Army) I knew I wanted to create something special to honor his memory and service. After the retreat, I had the inspiration to get going. I created the Capital District Women Veterans organization, and built Christopher House in Troy New York, a home for female veterans needing assistance."
Showing up.
Connecting through song.
Chris Rem exemplifies strength and compassion. Constructing homes to comfort and aide others. We are honored and humbled to share her story, to sing her praises here with you!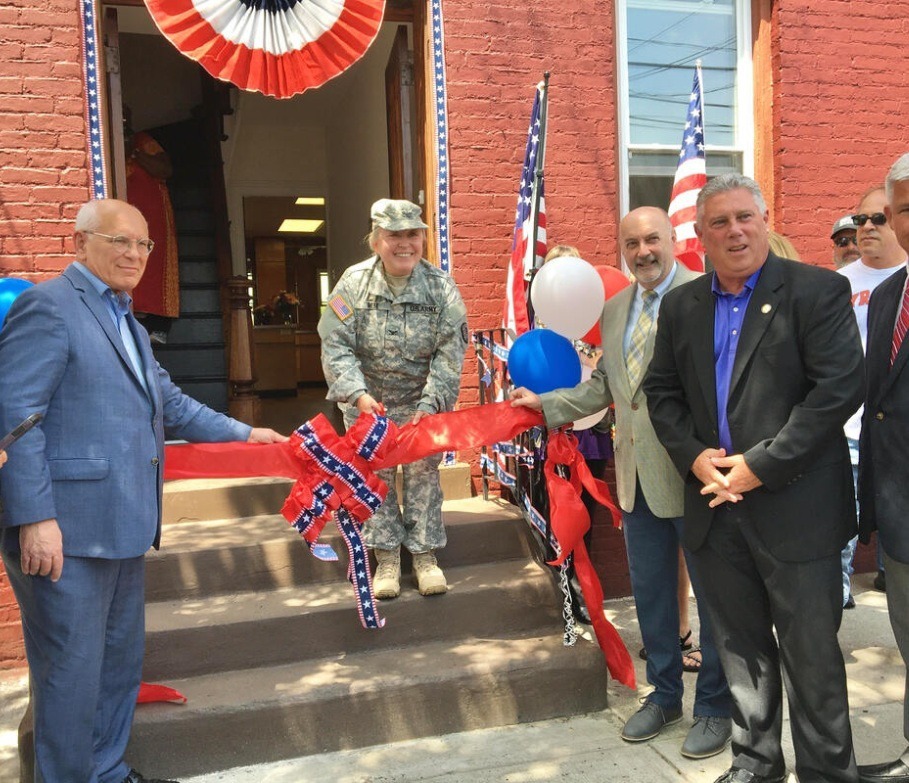 Christine Rem, Capitol District Women Veterans Ribbon Cutting for the Christopher House. Photo Courtesy of: Chris Rem
Eyes of the Deer
Christine Rem / Maia Sharp
He pursued her as a hunter
Predator to prey
Then he finally caught up to her
At a sure fire range away
She was lined up, just a target
Nothing he'd recognize
But when she looked up directly at him
He saw a child's eyes
Innocent reflection
Silent sacrifice
We bury our confession inside
Cause no one wants to hear
About the eyes of the deer
When we meet nobody's talking
Till I say I've seen it too
Then the borders, they start dissolving
We can get to the getting through
We can stop the isolation
Of thinking anyone is the only one
What we pushed down into the darkness
Can finally see the sun
Innocent reflection
Silent sacrifice
We bury our confession inside
Cause no one wants to hear
About the eyes of the deer
About the eyes of the deer
Crooked Crown Music (BMI) / SongwritingWith:Soldiers Music (ASCAP)