"Thanks again for reigniting a smoldering ember!!"
– Rob Rogers, EOD Soldier
Keeping creativity and connections thriving within our community has been a priority of SongwritingWith:Soldiers since day one. As the pandemic deepened, our effort only strengthened. In October 2020 we gathered veterans from our first Tennessee retreat for a full day online event with a team of four songwriters and staff providing one-on-one writing sessions, meditation, strengths discussion and closure ceremony all delivered through Zoom.
Veteran Rob Rogers had lost his father only days before, but he was determined to participate. He knew well the profound impact it would have on him and countless others as his message before the session shows:
"…almost a year ago I was training some young EOD Soldiers at Fort Campbell and got to talking with one of them. I noticed that he was using words in our conversation that led me to believe he may be on the verge of suicide. I asked him if I could play him a song or two on my phone and he agreed. I played him three (from SVV:S): 'Waiting on the Boom' by Radney Foster, 'Something's Not Right' by Gary Burr and 'Still on the Ride' by Mary Gauthier (I picked these because I have them downloaded and they are some of my favorites). When the last one finished he looked up with red teary eyes and said, 'I could have written all of those songs' like he could connect with each one. We talked awhile longer and I believe he walked away with a new outlook and an additional coping mechanism. Now I don't know if I really helped that young man or not, but because of everything you and the rest of the amazing talented staff have done for me, I can't help but share my testimony and maybe help someone else who was hurting as much as I was prior to my first retreat. So thank you again from the bottom of my heart. I know Wendy feels the same for everything you do and have done for all of us Soldiers, Sailors, Airmen, Marines and families!!"
Rob and Wendy, like so many military couples, have deep, giving souls. After attending the EOD Couple's Retreat in 2018, where they wrote "Pick'n Up the Pieces" with James House and attended painting and writing workshops, they felt their creativity "reignited" as Rob says. They volunteered as Peer Support for the 2019 Tennessee retreat and showed up with a truly historic gift, a quilt handmade by Wendy for SW:S.
When Rob entered the Zoom room for the 2020 TN online reunion, he devoted his writing session to his late father, composing "My Old Man," with Gary Burr. Afterwards he wrote:
"Why these incredibly talented songwriters take so much time out of their busy lives to help us everyday veterans still blows (no EOD pun intended) my mind. It truly touches me to the depth of my inner being that compassion still lives on in this crazy world. And even though the songs we write may not ever be nominated for any award or be played on radio stations nationwide, I would like them to know that to each of us they are priceless pieces of magical music, worthy of all the stardom in the world."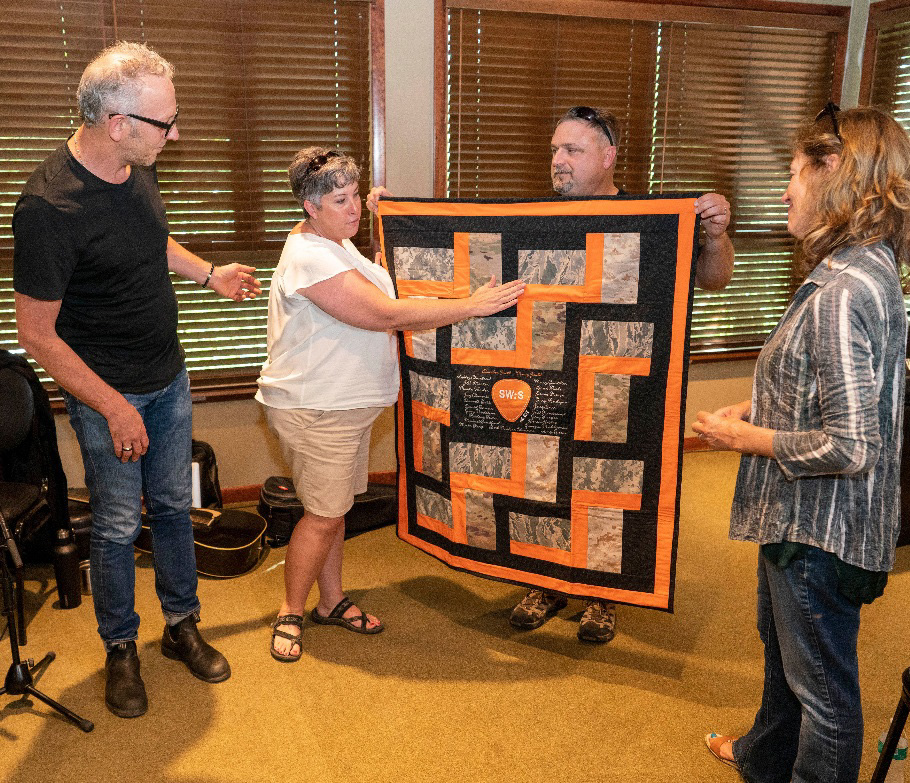 Wendy Rogers presents SW:S with her handmade quilt in Tennessee in 2019. Photo: Ed Rode.