"Before coming to the retreat, I had the date, the time and the way I was going to end my life," Joshua Geartz told SW:S Co-Founder, Mary Judd in 2015. "Writing my song with Mary Gauthier gave me hope—something I had lost."
He had arrived a quiet somber man, with his service dog never far from his wheelchair. By the end of the weekend, he was a different man. "I told Mary things I hadn't been able to tell anyone. She was able to hear it and to turn it into the perfect song, `Still on the Ride'."
Josh returned to a SW:S retreat in 2016 with a financial donation to the program. He and his wife, Lisa, also a U.S. Army veteran, had been raising funds in creative ways, including a 422-mile wheelchair journey across three states. They were determined to do all they could to help the program that had turned their lives around. We even coaxed Lisa into the songwriting chair, to write her own song, "An Army of One."
Josh returned in 2017 to provide Peer Support at a retreat. His wheelchair now out of sight, a cane in his hand and a determined smile on his face. By 2018, the cane too, was long gone. This time, he carried a case of harmonicas for the Creative Compositions workshop he led for the other participants at the retreat.
Serving as Peer Support, Josh eases participants nerves. His warmth, genuine enthusiasm and hard-fought smile inspire all. Each year, more veterans find their way to SongwritingWith:Soldiers because of Josh's inspiring song and story.
Josh Geartz beautifully represents the immeasurable effect that can come from one individual attending a retreat.
In the summer of 2019, Josh stood in the spotlight at the War Memorial Auditorium in Nashville, Tennessee. He performed "Still on the Ride" with Mary Gauthier for the "Songwriting With Soldiers" PBS concert special. Their performance brought the crowd to its feet and joy to many hearts. Once again, Josh showed up for his fellow veterans and SW:S. "I will do anything to help other veterans have the opportunity I have had."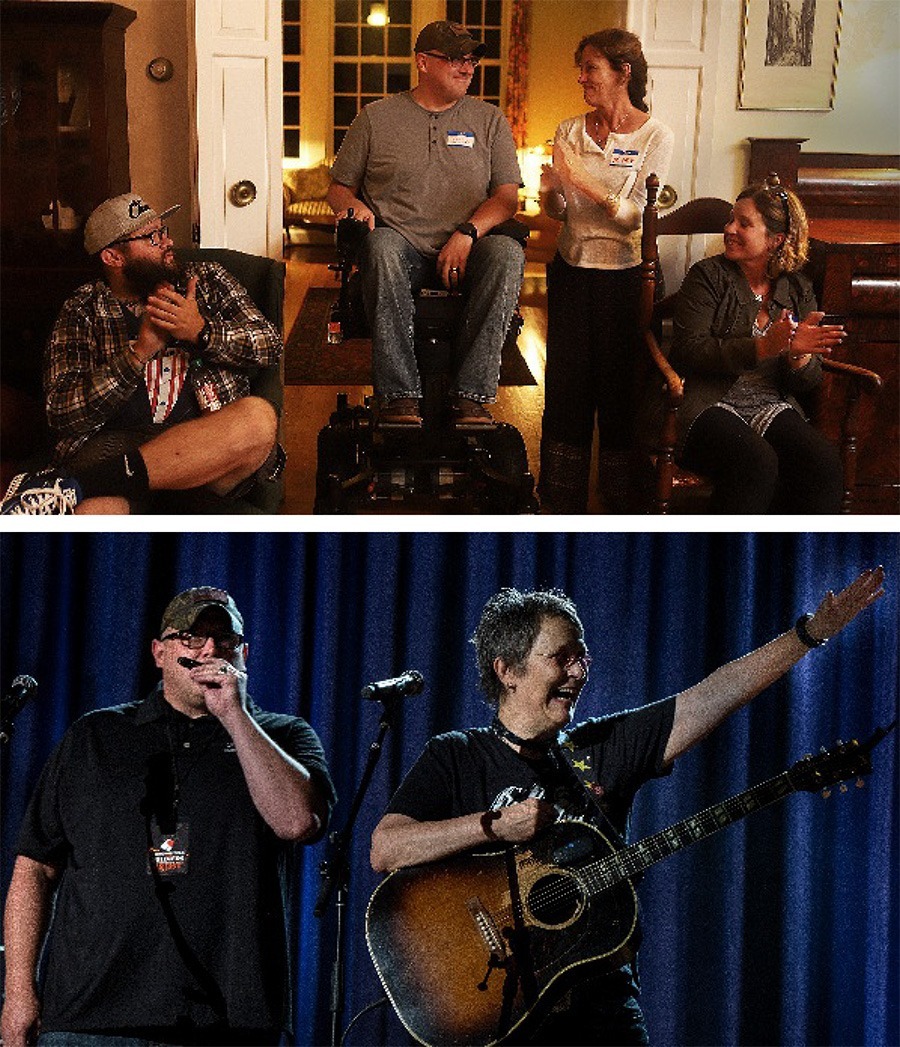 Top: Joshua Geartz, wife Lisa (seated right) and SW:S Co-Founder Mary Judd. Photo: Rick Loomis
Bottom: Joshua Geartz and Mary Gauthier on stage in Nashville, Tennessee, 2019. Photo: John Partipilo