»

Participant Application
A few things to know about our retreats:
Retreats run from 4:00 pm Friday through 4:00 pm Sunday.
All participants are required to secure their own transportation to and from the retreat.
Food, lodging and supplies will be provided by SongwritingWith:Soldiers while at the retreat.
Participants must provide proof of service (Copy of DD 214 or equivalent) and sign a Participant Agreement.
If you are interested in being part of a SongwritingWith:Soldiers retreat, please complete the application below. We receive a large number of applications and review applications twice a year in May and December. Unfortunately, we can not guarantee every applicant a spot at a retreat. Spots are limited and we are doing our best to reach as many as possible. If there is an opening at a retreat we will contact you to set up a phone call.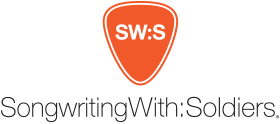 SongwritingWith:Soldiers
632 Fogg Street, #8
Nashville, TN 37203
© 2023 SongwritingWith:Soldiers, Inc,, a nonprofit, 501c (3) organization. All contributions are tax deductible. Tax ID # is 26-1626709.
SongwritingWith:Soldiers transforms lives by using collaborative songwriting to expand creativity, connections and strengths.
If you or a veteran you know is in need of other assistance beyond the programs of SW:S, please call the confidential Veteran's Crisis Hotline at 1-800-273-TALK or dial 911. If you are in need of immediate help or if this is an emergency, please go to your nearest emergency room or dial 911.