"Music – it's an Rx for the invisible wounds of the soul."
– Don Navor
Retired Army LTC Donald Navor received three Bronze Stars V for valor and the Combat Infantryman's Badge during his tour in Vietnam. He served as Infantry Platoon Leader and Company Commander in combat. He continued with deployments to the Middle East and Latin America. His bravery and leadership skills were easy to spot and readily employed during his military service and, later, in his business career. However, what was nearly impossible to see was the fifty years of suffering he carried inside.
Fortunately, Don made his way to an SW:S retreat with his wife Kathleen. Unsure of what to expect, he surprised himself with his willingness to share personal struggles during the opening night group songwriting session. The next morning, Don sat down with songwriter Michael Bradford. Their discussion lifted some heavy memories, again surprising Don with how much he had been carrying around and the toll it was taking on him. Together, the two crafted his stories into the song "El Camino."
The experience proved transformational for Don. He sent the following note:
"Divine Providence and Serendipity got me to the retreat. One has to listen for the dots. It started with Kathleen hearing Mary Gauthier on NPR and bringing her album 'Rifles and Rosary Beads' to my attention. I downloaded it, listened to it and immediately related to the pain of those soldiers. Fast-forward to Mary playing a show at the Loving Cup where upon meeting her she looked into my eyes and said, 'You should meet Mary Judd.' I did and you mentioned the retreat in Colorado. I mustered up the courage and applied. I had just joined a VA group and was very vulnerable. Discussing my war experiences with fellow combat Veterans was a new and daunting experience. While the group therapy was beneficial in helping me reveal PTSD issues that I lived with as normal for someone who had seen combat (anger and nightmares) something was still missing.
Initially, I had no idea what the retreat was about. I admit that from registration to departure I was overtaken by a spirit of place never before experienced. Writing my song from my story as told to Mike Bradford, who grew up on the battlefields of Detroit, has given me a touchstone to coexist with my demons in real time. I thought that I would get something to make the haunting memories disappear. Not to be the case. Rather, what resulted was a song that captures who I am, where I came from, the demons of war, and the reality that I live in today coexisting with those demons of war. I somehow was released with the advent of my song. The songwriting process, with all its tears, was a catharsis never before experienced.
When words fail, music speaks. SW:S is a real-world testament to music's effectiveness in taking hardened combat Veterans to their 'good place.' Songwriters with their good souls and beautiful minds are the point people to help those veterans feel again."
The peer support and creative tools provided by the retreat helped reinforce Don's commitment to get the help he needed.
A few months later, SW:S was featured at the 2019 Congressional Medal of Honor Foundation event in New York City. Three songs were performed including "I Can't Save You Now" written during the retreat by Don's wife, Kathleen. She was in New York City near the Twin Towers on 9/11 and her song tells the story of how Don helped her keep moving and stay strong.
Together, their songs and inspiring stories fill us with awe and hope. They remind us that music can indeed soothe the soul and fuel one's heart.
US Army veteran Don Navor (left) and dog Brixton, with Michael Bradford at Heart J Center, Loveland, Colorado. Photo: Rick Loomis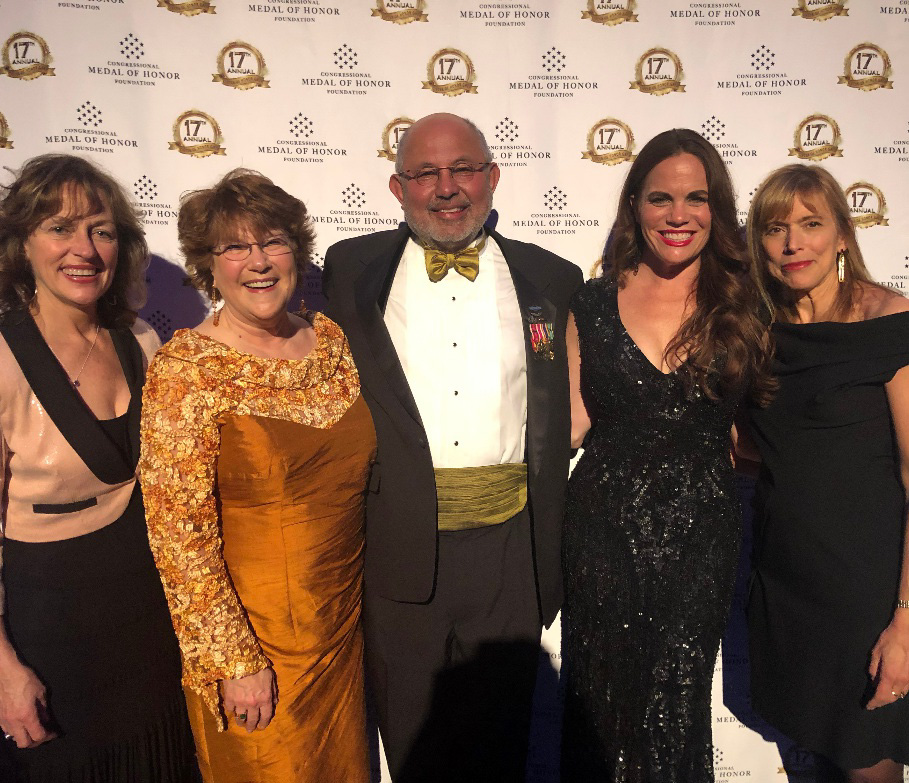 US Army veteran Don Navor at the 2019 Congressional Medal of Honor event in New York City with (I-r) SW:S Co-Founder Mary Judd, Don's wife Kathleen Cattrall, songwriter Bonnie Bishop, SW:S Board Member Barbara Kornreich. Photo: Courtesy Kathleen Cattrall.