"SongwritingWith:Soldiers showed me how to be happy again… how much micro moments of connection matter and what they can lead to."
– Sgt. Josh Geartz, U.S. Army, Retired
"Welcome everyone to SongwritingWith:Soldiers' Creatively Strong Interview. I am Josh Geartz, the Outreach Coordinator for SongwritingWith:Soldiers and I am here with Army Veteran and French Chef, Kenneth Sargent…"
So began the second live interview Josh Geartz hosted for the SW:S online community. Josh had trained with SW:S co-founder Mary Judd to eventually host the series where guests (many from the SW:S community) discuss their creative pursuits and tips for staying motivated and connected long after retreats.
Josh has been active in our community since 2015 and his impact on the lives of many, veterans and civilians alike, continues to inspire. When he arrived at the NY retreat in November 2015, Josh knew the day, the time, and the way he was going to end his own life. By the second day of the retreat, Josh had battled through his silence to share a never-revealed story with songwriter Mary Gauthier. Within a few hours, the two had connected through trust and passion for music. Their song, "Still on the Ride" is the result.*
This collaborative songwriting experience was the unseen bridge Josh needed to reconnect to himself. (Mary Gauthier says the same about herself and her songwriting purpose.)
Over the years since, Josh has shared the performance stage with Mary and his story with the world – through live audiences, television appearances and radio broadcasts. None of this could have been anticipated when Josh attended the retreat. But, once there he connected – like so many others who have been able to expand creativity, connections and strengths through our program.
Today, along with hosting interviews and harmonica workshops online for SW:S, Josh provides peer support at retreats, and advises other veterans who are wanting to connect with their communities. The impact of Josh's connections – back to himself, to his peers and to the public community at large – have been life-saving for him, and life-changing for so many of us.
His story is one that represents many in our community. We are continually thrilled to keep you updated so you can share the celebration and support!
*The song was included on Mary Gauthier's Grammy nominated Rifles and Rosary Beads album, a collection of songs written with veterans and military families through SongwritingWith:Soldiers.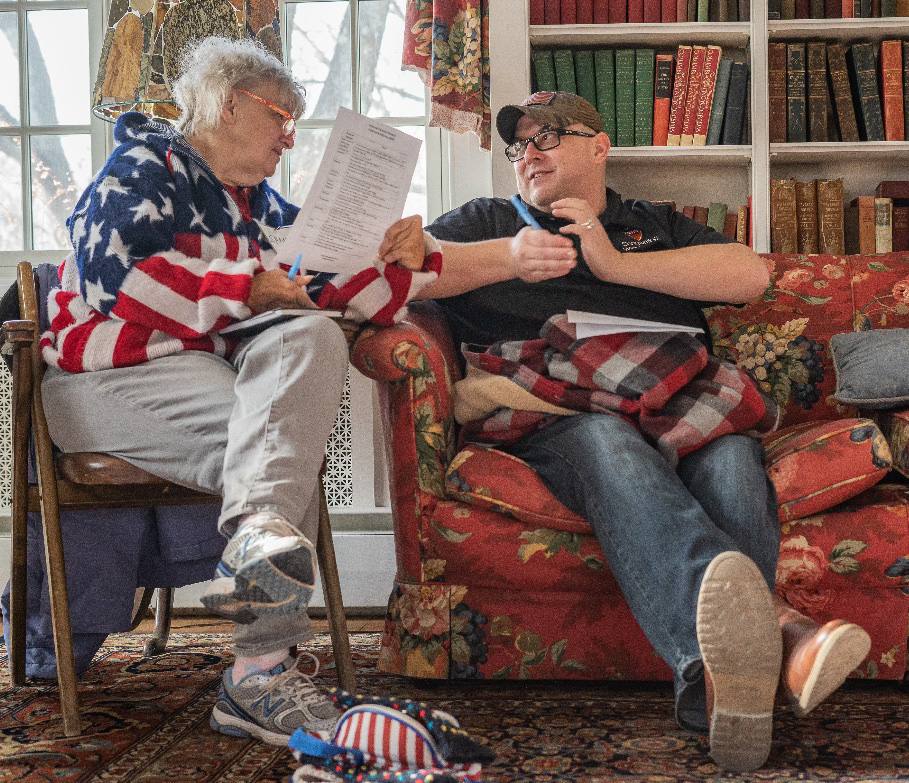 Josh teaches a harmonica workshop, November 2019. Photo: Brian Lasky