"Music - it's an Rx for the invisible wounds of the soul."- Don Navor Retired Army LTC Donald Navor received three Bronze Stars V for valor and the Combat Infantryman's Badge during his tour in Vietnam. He served as Infantry Platoon Leader and Company Commander in...
read more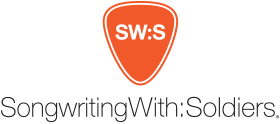 SongwritingWith:Soldiers
632 Fogg Street, #8
Nashville, TN 37203
© 2023 SongwritingWith:Soldiers, Inc,, a nonprofit, 501c (3) organization. All contributions are tax deductible. Tax ID # is 26-1626709.
SongwritingWith:Soldiers transforms lives by using collaborative songwriting to expand creativity, connections and strengths.
If you or a veteran you know is in need of other assistance beyond the programs of SW:S, please call the confidential Veteran's Crisis Hotline at 1-800-273-TALK or dial 911. If you are in need of immediate help or if this is an emergency, please go to your nearest emergency room or dial 911.